SS-PREP® SMT-
Co25Cr5W5Mo
Spherical Powder Approved
CFDA-
III
July 2nd, 2020- Xi'an, CHINA– SS-PREP® SMT-Co25Cr5W5Mo Spherical Powder has been granted The clearance of the Chinese Food and Drug Administration (CFDA) on June 19th. As one of the leading manufacturers of spherical metal powder for AM&PM industry, Sino-Euro Materials Technologies of Xi'an Co., Ltd.(Sino-Euro) is the first factory-based supplier with CFDA-III accreditation in Greater China. This milestone will allow the powder to be applied in dental industry commercially and officially.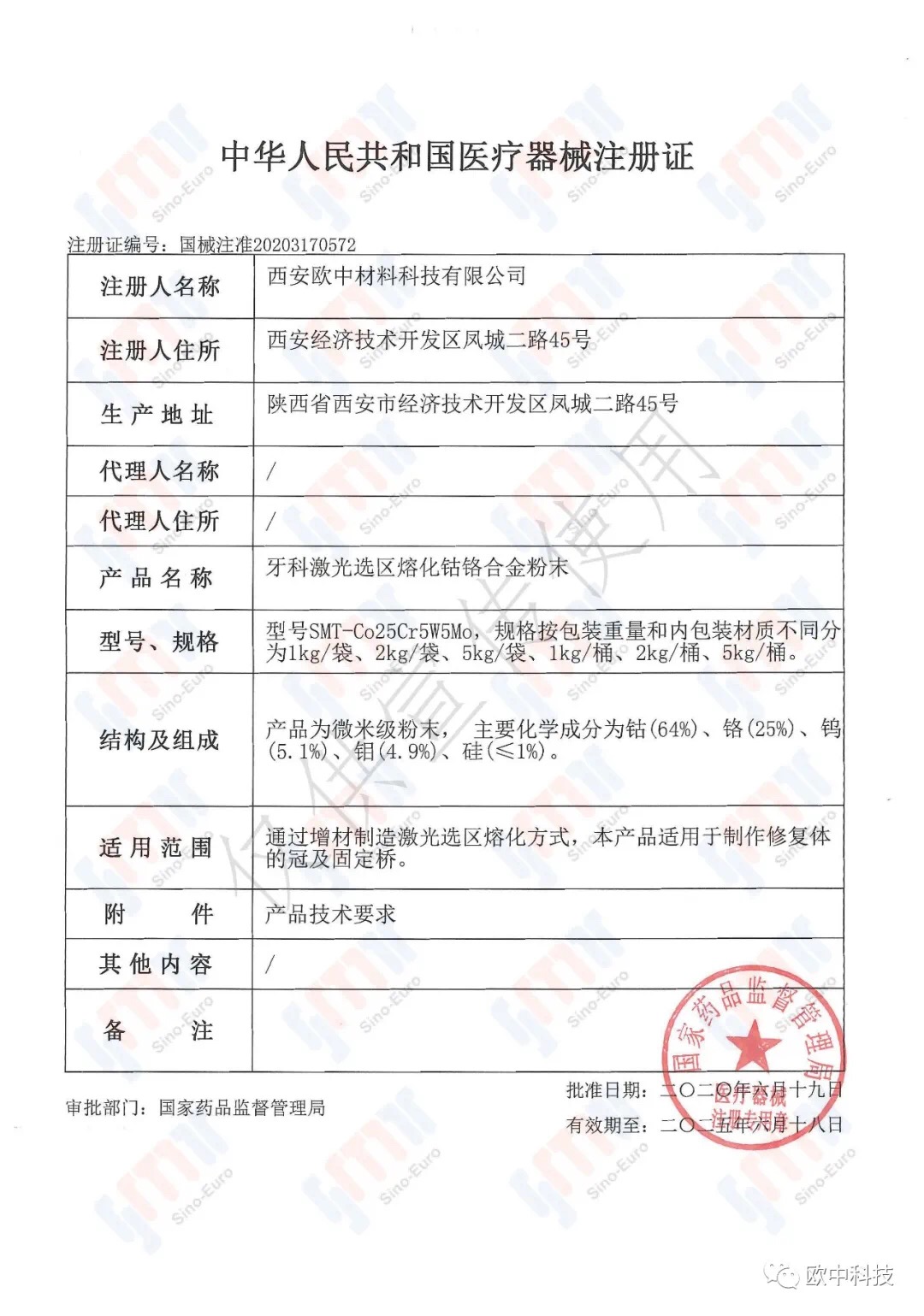 Co-Cr alloy is considered as one of the advanced materials due to good biocompatibility and mechanical properties such as high strength and high corrosion. It is widely gaining popularity in various engineering and medical applications like dental implants, medical prosthetics, manufacturing wind turbines, jet engine components and other mechanical parts.

As one of Co-Cr alloy family members, SS-PREP® SMT-Co25Cr5W5Mo is suitable for making dental restorations and appliances such as crown and fixed prostheses with SLM process.
"We are thrilled to officially releasing SS-PREP® SMT-Co25Cr5W5Mo spherical powder this year to expand our business in dental industry," states General Manager Dr. Liang. "With the application for CFDA-III granted SS-PREP® Ti6Al4V ELI and the accreditation of ISO13485, Sino-Euro is ready to fully serve the medical industry."
Product is available now and for more information please contact info@c-semt.com.
---
Sino-Euro Materials Technologies of Xi'an Co., Ltd.(Sino-Euro) is a subsidiary company of NIN Group(www.c-nin.com). The capital investment is about 15 million US dollars. Sino-Euro is specialized in powder metallurgy, Prealloy Spherical SS-PREP® Powder, Additive Manufacturing Wire, Bar & Substrate, and HIP service & components. Sino-Euro has been authorized with AS9100D, ISO9001 and ISO13485 Quality Management System.